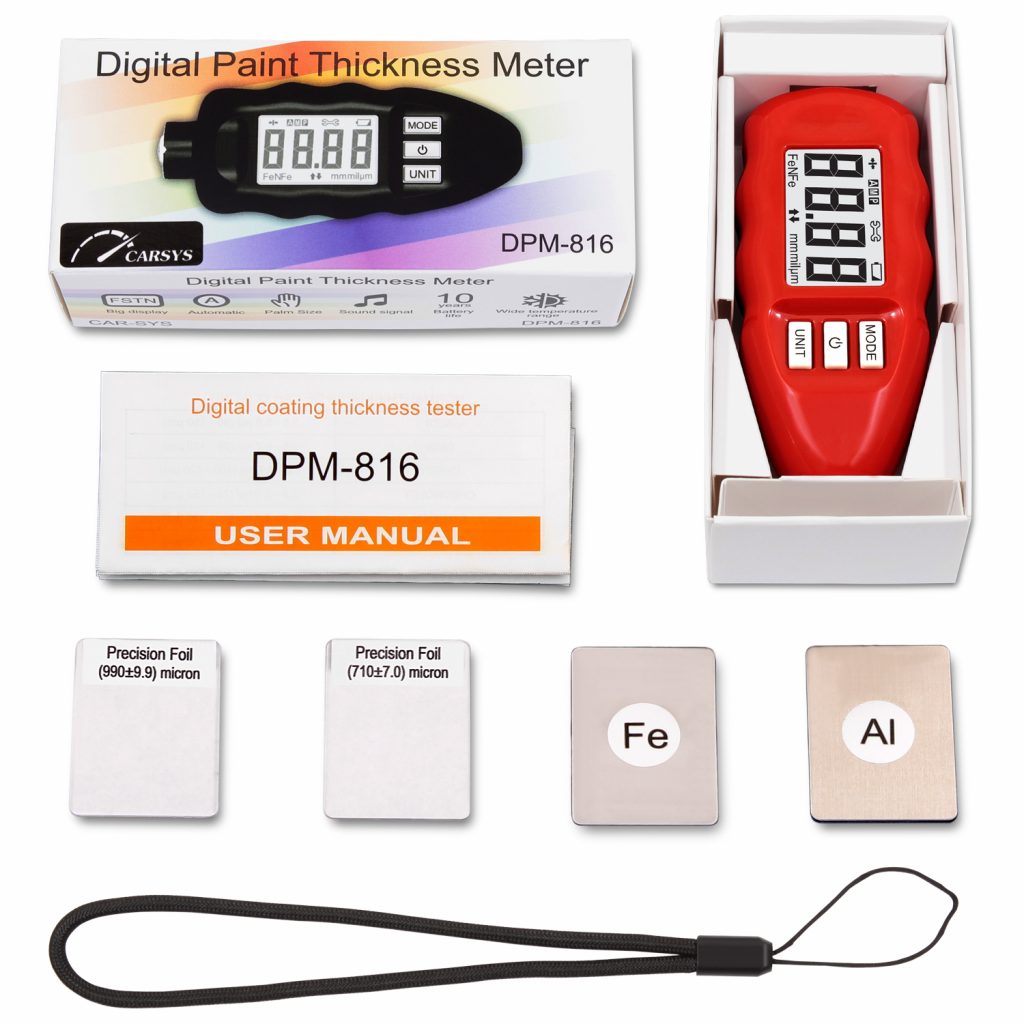 The device DPM-816 is used to measure thickness of various non-metallic coatings (paint, primer etc) over metallic base (steel, iron, alloys, aluminum etc).
An example of case for use would be to measure paint layer thickness of car body panels.

It is perfectly suitable for personal use, and also for work environments.
Main characteristics:

– Automatic detection of metal type: Fe or nFe.

– 5 operating modes: auto, precise, custom, magnetic induction, eddy current.

– Measurement in mm, microns, mil.

– Wide range of operating temperature, down to (-13F) -25 degrees Celsius. High frost resistance.

– Tip (sensing element) made of durable material (does not wear out) and is convex, which allows it to remain precise even with minor slanting during measurement.

– Data collection: All calibrations are saved to the device memory.

– Easy reset – Allows the user to reset the device to factory default settings.

– Small and convenient. Easy to use and calibrate.

– No unnecessary functions/function bloat.

– Backlit display with automatic timeout for energy saving.

– Automatic device shutdown after 2 min for energy saving.

– Resolution: 0.01-1.0 mil (1.0-10 µm) depends on operation mode.

– Measurement deviation (0-28 mil): ± 1% + 0.1 mil.

– Measurement deviation (28-118 mil): ± 1% + 0.4 mil.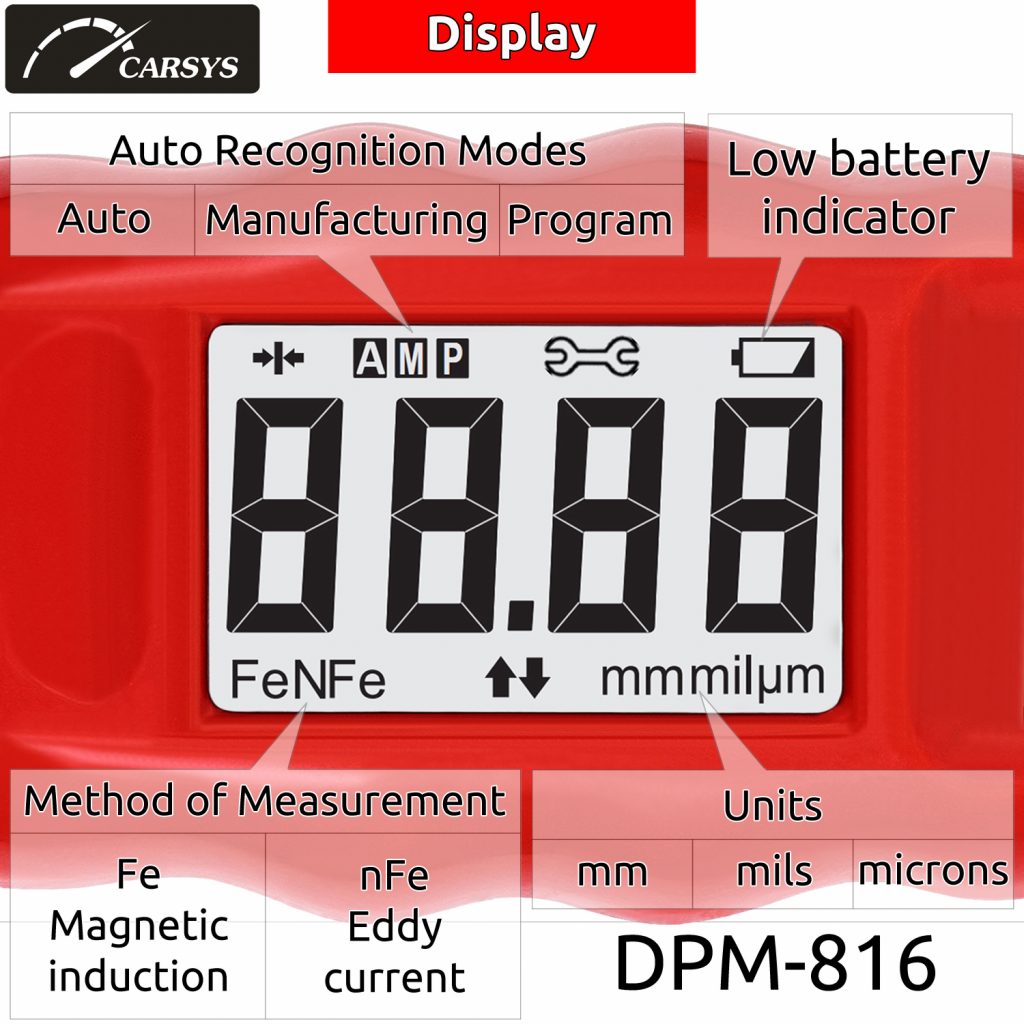 Wide range of Measurement – From 0 to 118 mils. Measuring at a Wider Range Allows to Precisely determine the Coating Thickness and be 100% Accurate
Sound Signal – Sound signal for Measuring various Coating types. Handy and unobtrusive sound signal will Help you Quickly and Easily determine the Coating type even without looking at the Display
Intelligent Measurement Detection – Automatically Detects when the Measurement is being taken, and takes the reading when the device is held still. Protection from inaccurate readings and Shaky Hands
Temperature Sensor – No more freezing, unresponsive screens in the cold. The device Automatically switches to Winter Mode when cold is detected, Displays Readings Longer, and Automatically Calibrates for the Current Environment
Compact, Universal Source of Power – Type AAA Battery 1.5V – No need to stockpile batteries or keep spare device-specific batteries. To operate, the device requires only a Single Standard Type AAA Battery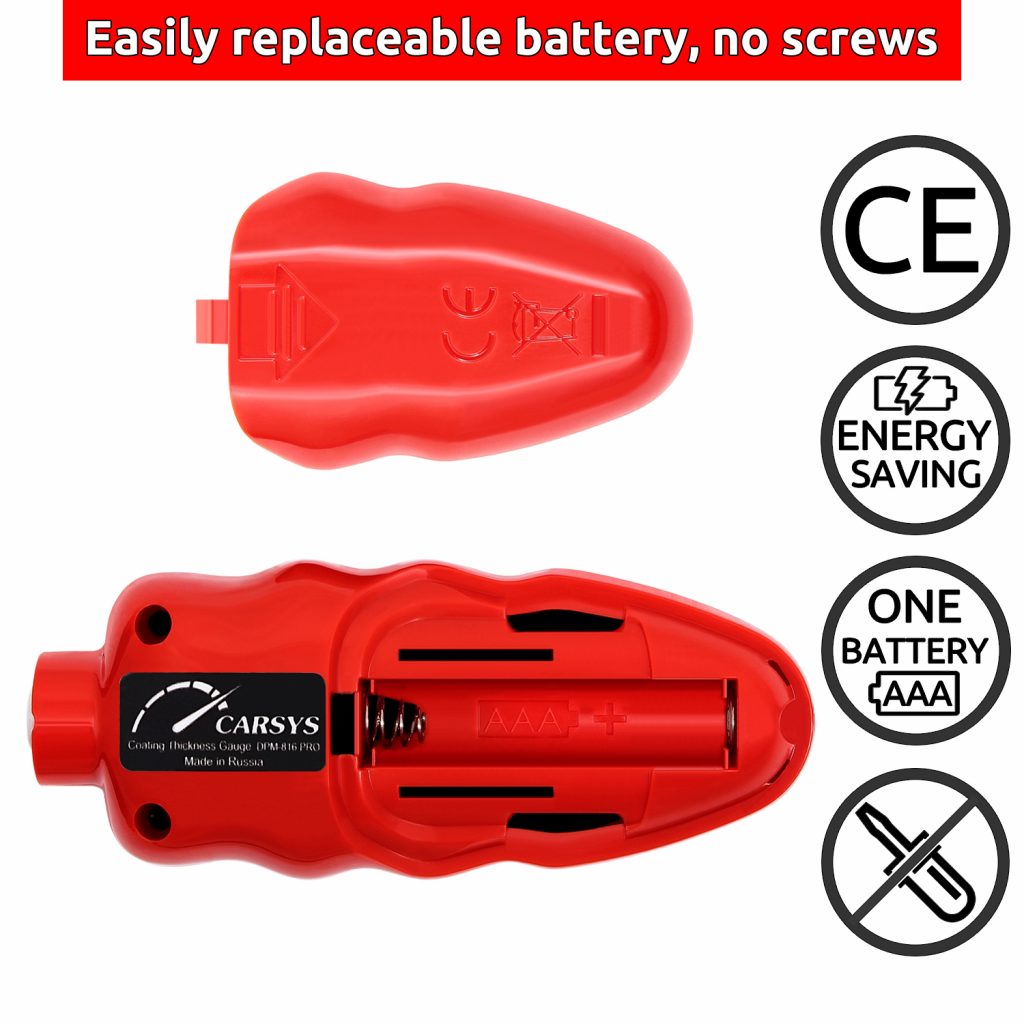 This set includes:

– Digital coating thickness gauge (the device).
– Aluminum and Steel calibration base.
– Calibration plates 27.5 and 39.4 mils thick.
– User manual.
Order online right now and enjoy the most accurate Coating Thickness Gauge ever!