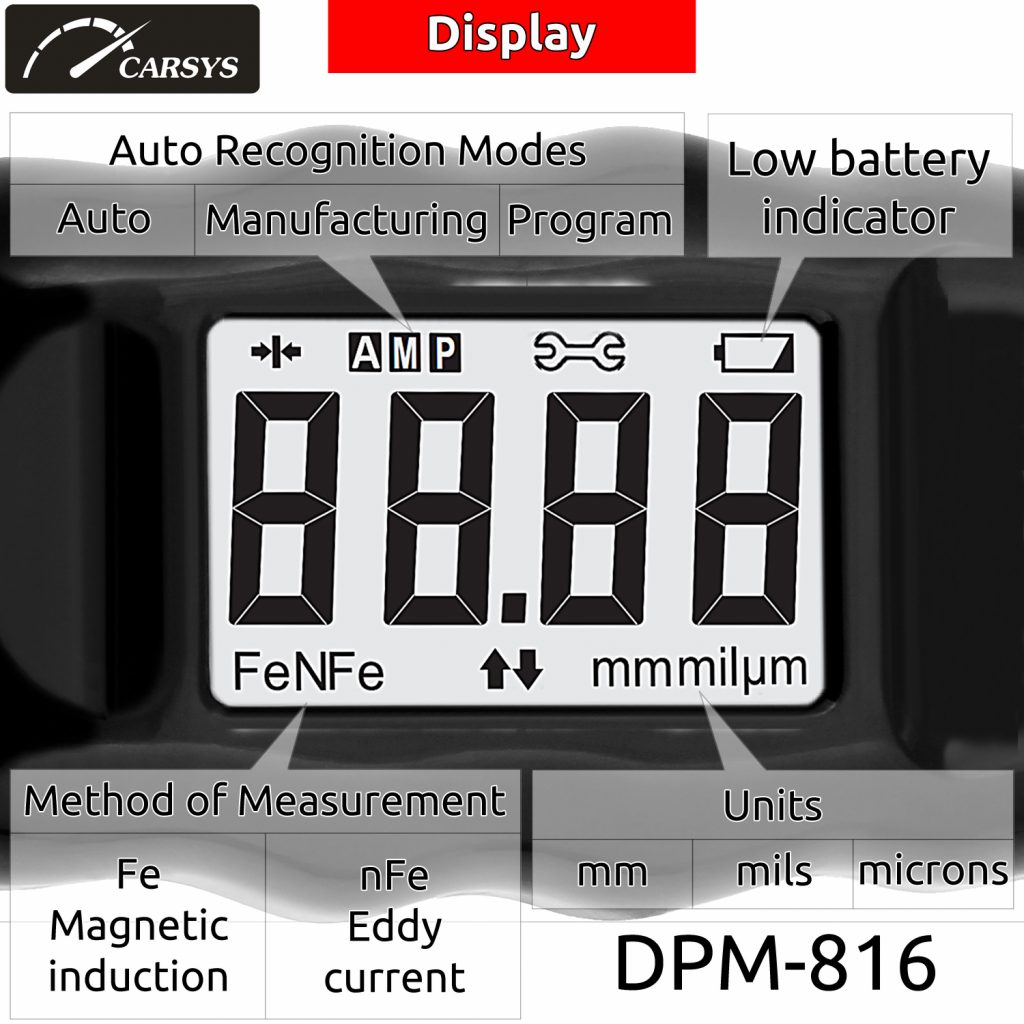 Presenting our device for measuring coating thickness (any non-metallc coating, for example paint, spackling paste) applied on a metal base (steel, iron, galvanised steel, aluminium alloys, zinc, etc.)
Thickness gauge applications
The coating thickness gauge can be used for measuring paint thickness, determine the condition of the car body, in various manufacturing quality controls. Here are more sample use cases:
Buying a new or used car;
Dent repair on the car body without painting;
Checking the paint coat thickness during polishing;
Colouring of metal parts or the car body with control of coating thickness;
Car condition assessment for insurance companies and those specialising in car selection;
Control for applying fireproof and protective coatings.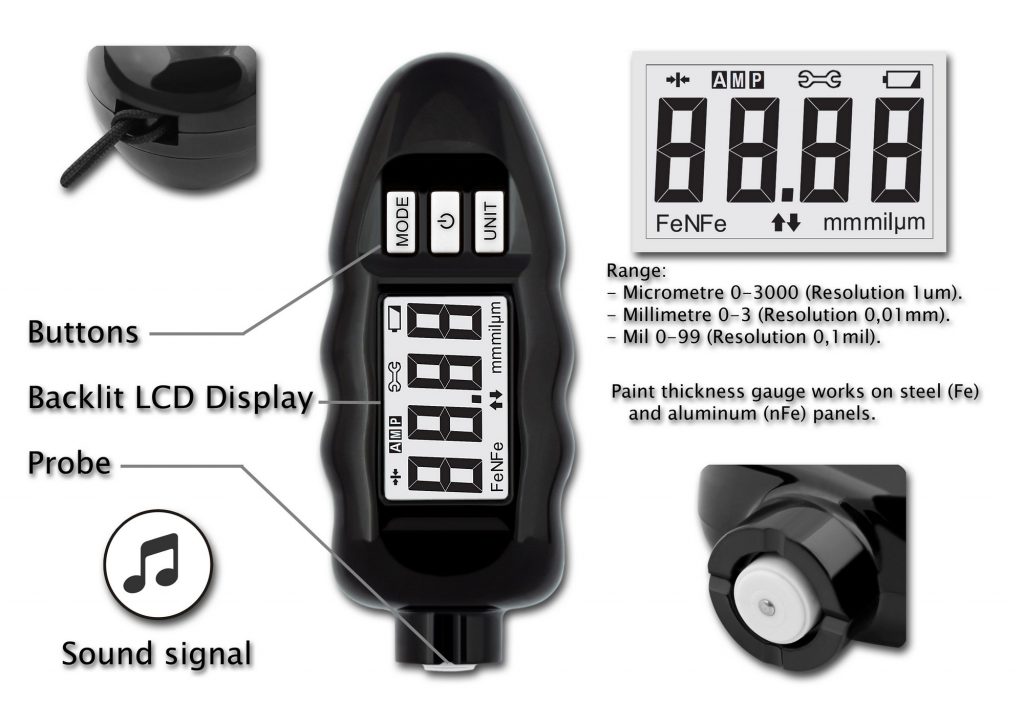 Advantages of the thickness gauge
Accurate and stable measurements.
Thickness measurement on ferrous and non-ferrous metal bases.
Thickness measurement range 0-3 mm (0-3000 μm).
Automatic determination of metal base (ferrous or non-ferrous).
Displays result in mm, μm, and thousandths of an inch (mil).
Thickness measurement on galvanised steel parts.
Allows for custom calibration for specific metals.
Fast user calibration using one or two points of reference.
5 modes of operation, for various usage conditions.
Backlit display for measuring thickness in poor lighting.
Automatic detection when the measurement starts.
Registered trademark and patent.
Three-year warranty.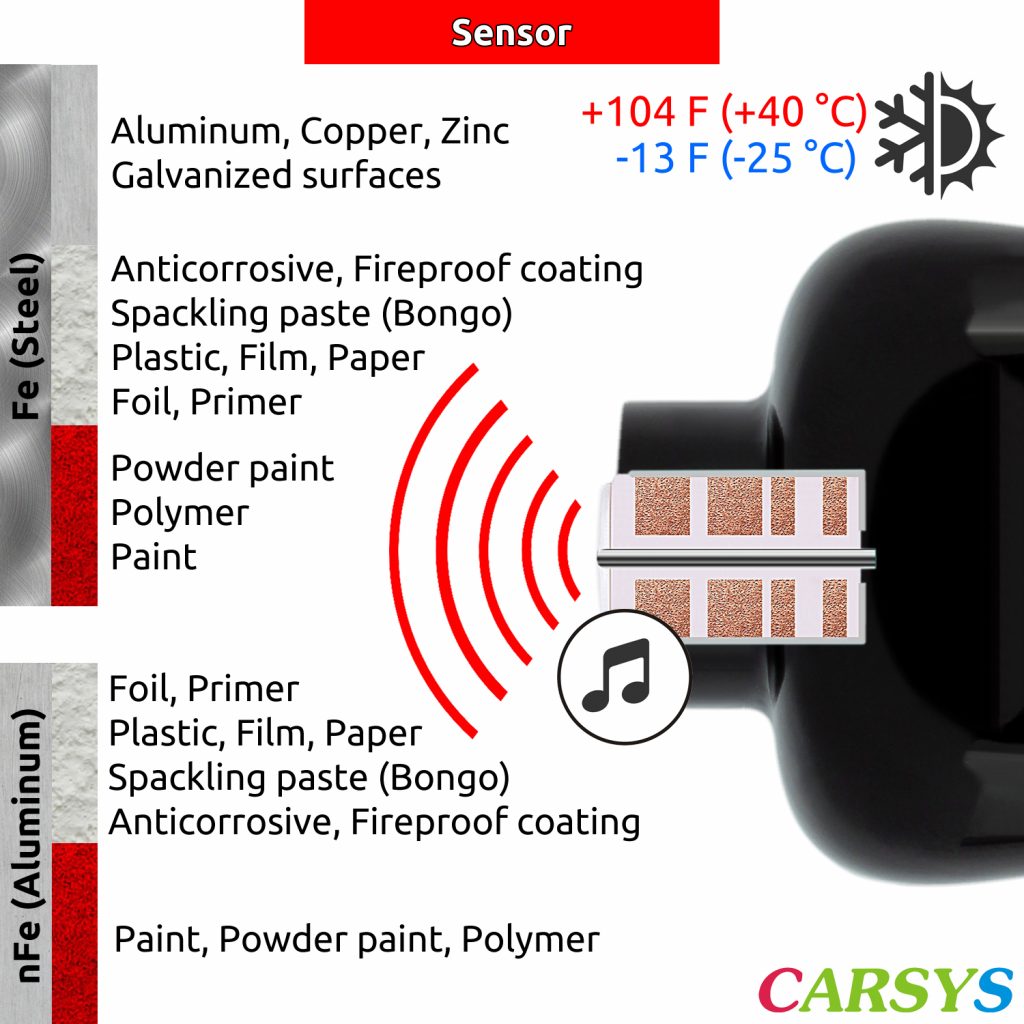 Specifications
Measurement range: 0-3000 μm (0-3 mm).
Measurement precision: 1 μm / 0.01 mm / 0.1 mil.
Permissible error (0-699 μm): ± 1% + 1 μm.
Permissible error (700-3000 μm): ± 1% + 10 μm.
Operating temperature (humidity not higher than 70%): from -25 to 40°C.
Power supplied by 1 AAA battery, 1.5 V (not included)
Measurement units: μm/mm/mil.
Measurement duration: 0.5-1 sec.
Display size: 20×33 mm.
Net weight (without battery): 50 g.
Manufactured in Russia.
Warranty: 3 years.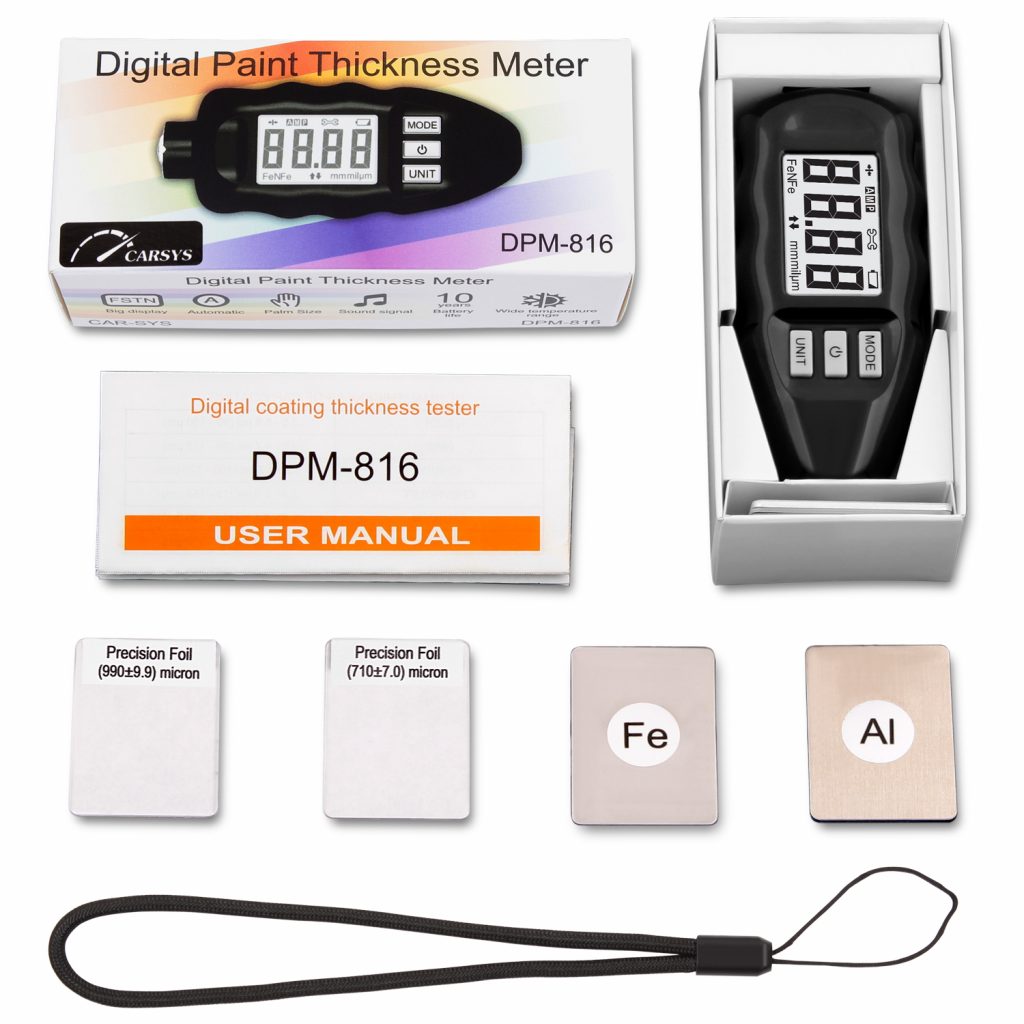 This kit includes:
Coating thickness gauge.
Aluminium base for calibration.
Steel base for calibration.
A set of reference plates for calibration.
User manual.
Individual packaging.
Warranty card.
This coating thickness gauge is an excellent choice for checking the car body before purchase, and will allow you to easily identify repainted and spackled places, assess the extent of previous damages to the car body and assess the quality of restoration work.
Where to buy DPM-816 Pro?
---
Respectfully yours, CARSYS Team